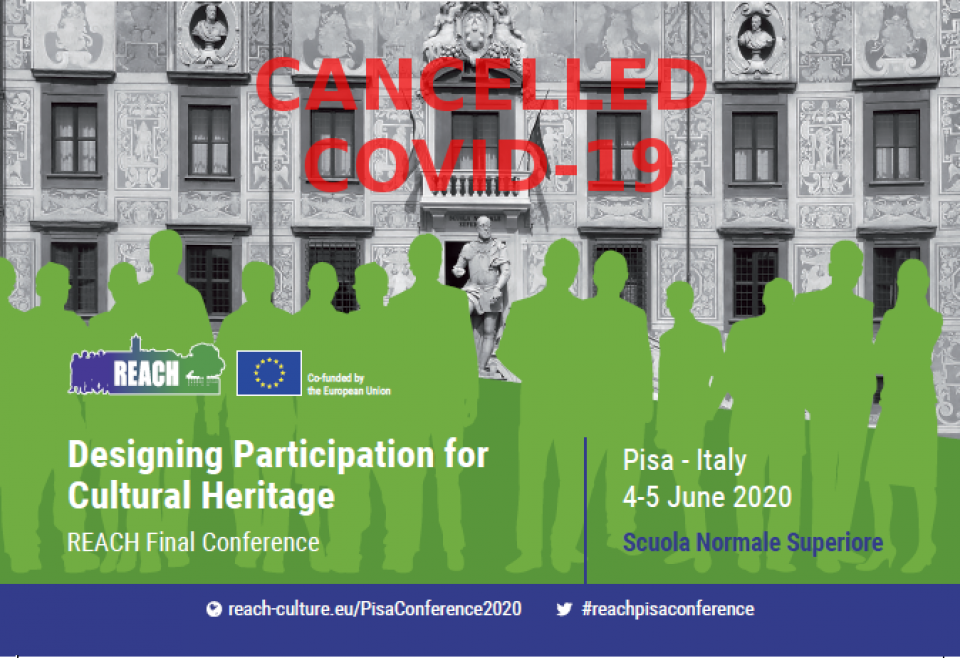 Designing Participation for Cultural Heritage
The digital gallery of posters and videos is online!
Click here
We regret to inform you that the REACH project decided to cancel its final conference planned for the 4-5 June 2020 in Pisa due to the movement restriction measures adopted by all European Countries to avoid the spread of Covid-19 pandemic.
We are still looking for posters and videos, click here to participate! 
In light of the interest received by the initiative the REACH Consortium have decided to keep the call open until the end of 2020 and to publish the contributions received on the dedicated digital gallery hosted by the REACH project's website.
The event will bring together a wide range of representatives from the cultural heritage sector, with the goal of presenting and assessing the results achieved during the project, considering their lasting and substantial impact within the scientific community.
It will be the occasion to:
illustrate 'The REACH proposal for resilient European Cultural Heritage'
review best practices and lessons learnt from the four participatory pilots
discuss the future of the Social Platform
In a wider perspective, the Final Conference represents a valuable opportunity for reviewing the topics discussed during the REACH Symposium  held in Brussels in March 2019 and consider future actions. In the current context, in which societies undergo a massive and bewildering change at global level, Europe faces the need to build cohesion among its citizens in order to guarantee an enduring  peace based on mutual respect and enhancement by diversities. In this light, Cultural Heritage plays an important role for strengthen social integration in Europe and should have a greater, more relevant and even transformative role in the economy, communities and territories.
CH research, in its capability to mediate between the past and the future, is able to provide many opportunities to reflect on and gain valuable insights from how past societies have experienced fundamental, rapid and disruptive changements and how they sought to find solutions to their challenges. 
CH research has a vital, inclusive role to play in understanding, and in dealing sensitively with the needs and motivations embedded in communities and groups.
The main themes emerged during the Symposium will be further discussed at the REACH Conference in Pisa, namely: building social cohesion from cultural heritage, preserving the past for the future, developing narratives and constructing the significance of place and place-making
The conference will include keynote speeches and plan for the participation of EC representatives.