Wir freuen uns über weitere Beiträge, die hier eingereicht werden können!
Hier zum download des Positionspapiers für die Europäische Kommission
Hier zum download der gemeinsamen Erklärung
Das REACH-Projekt möchte Menschen ermutigen, sich für Kultur und kulturelles Erbe zu engagieren. Auf diese Weise möchte es Kreativität und Innovation fördern und Bürgerinnen und Bürger in die Lage versetzen, mit den vielfältigen und umfassenden Veränderungen in Europa und der Welt umzugehen.
Der Kultur und dem kulturellen Erbe kommt dabei eine wichtige Rolle zu, da sie für Gemeinschaften und Regionen sowie für Gesellschaft und Wirtschaft prägende und relevante und zudem transformative Elemente sind. Zivilgesellschaftliches Engagement in der kulturellen Arbeit kann ihre Bedeutung stärken.
Vor dem Hintergrund dieser Überlegungen hat REACH eine soziale Plattform geschaffen, einen nachhaltigen virtuellen Raum, in dem Akteur:innen aus verschiedenen kulturellen Bereichen - wie Tourismus, Bildung, Kreativwirtschaft, Fachleute für kulturelles Erbe, Akademiker:innen, Kunst- und Kulturschaffende, NGOs sowie politische Entscheidungsträger:innen - sich begegnen, debattieren und zusammenarbeiten können.
In einem zweistufigen Prozess hat REACH Modelle für ein widerstandsfähiges europäisches Kulturerbe entwickelt. Sie verdeutlichen die Bedeutung sowohl von Kultur und kulturellem Erbe als auch von Bürger:innenbeteiligung für die Nachhaltigkeit sozialer, wirtschaftlicher und ökologischer Entwicklungen:
Erarbeitung partizipativer Modelle, die auf theoretisch fundierten Konzepten von Kulturerbe, Partizipation, Resilienz basieren;
Erprobung dieser Modelle in einer Reihe von thematischen Pilotprojekten.
Die REACH-Plattform wurde zwischen November 2017 und Dezember 2020 mit Unterstützung der Europäischen Kommission im Rahmen des Programmes Horizon 2020 umgesetzt.
Im Gedenken an unsere verstorbene Kollegin und Freundin, Lud'a Klusáková,eine bedeutende Historikerin und Professorin des Instituts für Weltgeschichte, Karls-Universität, Prag.
Novinky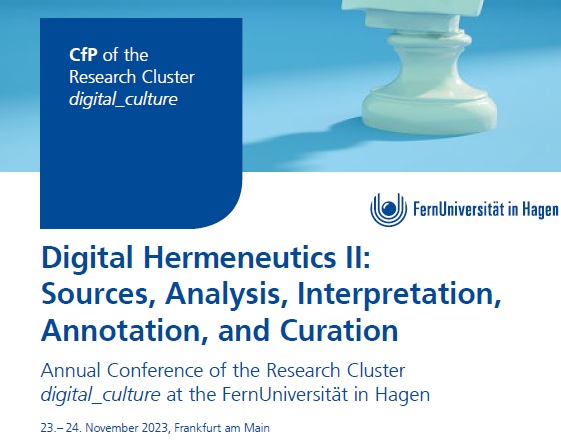 Hagen (Germany), 23 – 24 November 2023
Digitization has reached almost all areas of science and scholarship. And even in the cultural sciences and humanities, computers, databases and digital tools are increasingly important. Last year's ...
Open-Heritage.eu
Online platform about heritage research