We are still looking for posters and videos, click here to participate!
Click here to download the Position Paper submitted to the EC
Click here to download the Joint Statement
El proyecto REACH anima a las personas a participar en la cultura y el patrimonio cultural (PC) con el fin de fomentar la creatividad y la innovación y capacitar a los ciudadanos para hacer frente a los inmensos y rápidos cambios que tienen lugar en Europa y más allá.
REACH proporciona una plataforma social, un espacio sostenible para el encuentro, el debate y la colaboración entre las partes interesadas en el ámbito de la cultura y el PC: para el turismo, la educación, las industrias creativas, los profesionales de PC, los expertos académicos, los profesionales del arte, los profesionales de archivos y galerías, asociaciones y grupos de interés representativos de sociedades no profesionales y locales, y responsables políticos.
Es un desafío dar a la cultura y la salud un papel mayor, más relevante e incluso transformador en la economía, las comunidades y los territorios. REACH adopta un modelo integrado de un ambiente europeo de PC resiliente utilizando un proceso en dos pasos:
- desarrollar esquemas de modelos participativos, basados ​​en la comprensión teórica del PC europeo resiliente;
- y la aplicación de estos modelos a través de una serie de pilotos temáticos, para desarrollar marcos para lograr la sostenibilidad social, económica y ecológica integrada a nivel europeo.
La Plataforma Social REACH recibirá financiación de la CE entre noviembre de 2017 y diciembre de 2020.

In memory of our colleague and friend Luďa Klusáková, an eminent historian and professor of the Institute of World History, CUFA, passed away.
Novinky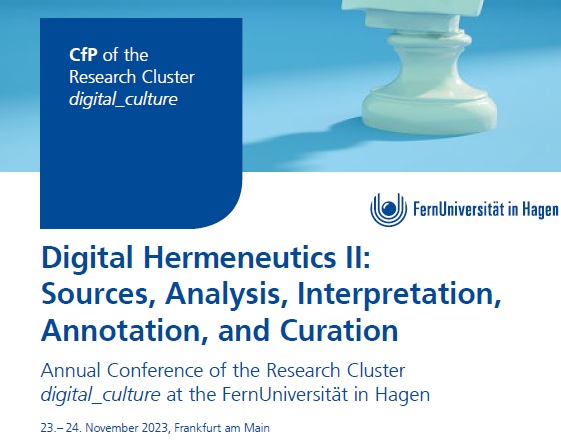 Hagen (Germany), 23 – 24 November 2023
Digitization has reached almost all areas of science and scholarship. And even in the cultural sciences and humanities, computers, databases and digital tools are increasingly important. Last year's ...
Open-Heritage.eu
Online platform about heritage research