We are still looking for posters and videos, click here to participate!
Click here to download the Position Paper submitted to the EC
Click here to download the Joint Statement
A REACH projekt arra buzdít, hogy bekapcsolódjunk a kultúra és a kulturális örökség kezelésébe. Nemcsak azért, hogy a kreativitás és innováció nagyobb szerepet kapjon, de azért is, hogy az állampolgárok ezáltal megerősödve nézhessenek szembe az Európában és azon kívül is zajló nagyívű és gyors változásokkal.
A REACH egy társadalmi platformot hozott létre, egy olyan fenntartható virtuális teret, ahol a különböző, a kultúra területén tevékenykedő szereplők; a turizmus, az oktatás, a kreatív iparágak, kulturális örökség szakemberek, az akadémiai közeg képviselői, művészek, galériások és levéltárosok, civil szervezetek képviselői és szakpolitikusok, találkozhatnak, vitatkozhatnak és együttműködhetnek.
Gazdasági, közösségi és területi szempontból releváns és transzformatív szerephez juttatni a kultúrát és az örökséget nagy kihívás. A REACH projekt, egy két lépésből álló folyamat segítségével megalkotta a reziliens európai örökség integratív modelljét:
a reziliens európai örökség elméleti értelmezésére alapozva felvázolta a participatív modelleket;
és tematikus pilot-projektekben alkalmazta ezeket a modelleket annak érdekében hogy egy európai szinten integrált módon társadalmi, gazdasági és ökológiai fenntarthatóságot éjen el.
A REACH társadalmi platformja 2017 novembere és 2020 decembere között valósult meg az Európai Bizottság támogatásával.
Kollégánk és barátunk, Luďa Klusáková, a kiemelkedő történész, a Károly Egyetem Világtörténelmi Intézetének professzora elhunyt.
Legfrissebb hírek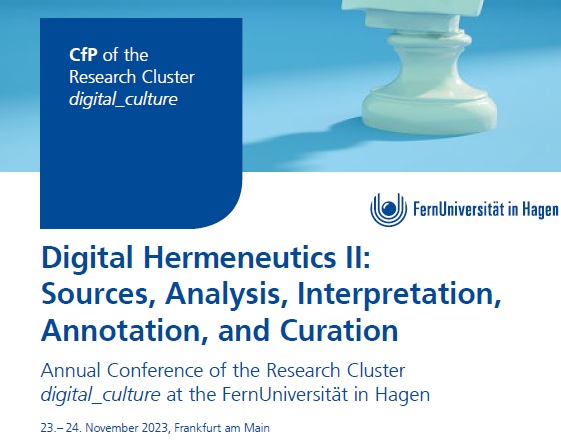 Hagen (Germany), 23 – 24 November 2023
Digitization has reached almost all areas of science and scholarship. And even in the cultural sciences and humanities, computers, databases and digital tools are increasingly important. Last year's ...
Open-Heritage.eu
Online platform about heritage research